Hallmarks of successful corporate wellness programs
Corporate wellness program has been an effective tool to reduce health care expenditure the companies have to bear for employees. Also it is proven to create a more inviting and cheerful work space, where the employees feel more connected to the firm. There are different levels of Corporate Wellness programs. From basic level online program to tailor-made programs that cater to each employee's concerns individually and sensitively. However, whatever be the program there are certain things that make a wellness program succeed. These are known as the Hallmarks Of A Successful Wellness Program and are listed below:
1. Programs Are Practical and Accessible
The wellness program should be such that every employee can reap the benefits. The schedules should be flexible, and should offer variety of options to choose from. It may include fun fitness activities, stress-management sessions, yoga classes etc.

2. The Work Environment Is Health-Conscious
The work environment should be pro-fitness. The pantry and cafeteria should offer healthy food items at reasonable prices. Tea & coffee should be substituted with healthy beverage offerings. A gymnasium could also be installed. A peaceful and positive environment is maintained in the work place.
Interesting: How to Stop Food Cravings
3. Wellness Is Integrated into the Company's Structure
The wellness program must not come as an obligation to the workers. The leadership should work towards integrating the program seamlessly into the company's overall structure. It should be a cohesive entity. A wellness program cannot work if it is forced on a herd breaking their backs in hazardous work spaces. The infrastructure, work hours, and other areas should blend well with the program for it to succeed.
4. Wellness Is Linked to Existing Support Programs
The program should gel well with the EAPs. This is the key to an easy and accessible support mechanism for the employees in order to fetch mental and physical well being. When the wellness program and other support program co-exist, it becomes much more convenient for the employees to engage with them and without hesitation seek to benefit from them.
Recommended: Healthy Snacks To Keep in Your Office Drawer
5. Health Screenings and Education Are Offered
Many a times the staff sees such wellness programs as company gimmicks. It is for this reason that a successful wellness program is one that educates the participants about its utility. Organizing voluntary screenings can be helpful in this, by providing much needed information to the employees about their health and how being fit can empower them. Incentivizing the participation initially to engage the employee is a wise step in this regard.
The financial benefits are hard to be stated explicitly, but if your wellness program incorporates the above listed points you are sure to observe the following –
Lower absenteeism
Increased retention
Higher job satisfaction among employees
More & speedy work productivity
Lower health care costs
These outcomes are a tell-tale of any successful Corporate Wellness Program. To have one such program run in your work-space, try Idietitian's Employee Wellness Solutions India, a comprehensive program designed specially for Indian corporate houses.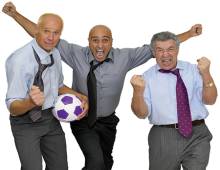 f